Village of Hope…
…is the name of our project. We've joined forces and set an objective. We being
a village in India named

Kummarigudem

,
the

MAHARSHI GOSHALA CHARITABLE TRUST

, an Indian NGO and
a small association in Berlin called

Sankranti e.V.
We want Kummarigudem to be a beacon of hope. The village was carefully chosen by the Goshala Trust, our Indian partner organisation. The preconditions were that there should be a consensus in the village and that the decision to change their farming method would come from the farmers themselves. The method in question, ZBNF (Zero Budget Natural Farming) is not new to Kummarigudem, and in fact one farmer has been carrying it out successfully for five years!
Our aims are:
that every family becomes free from its dependency on chemical farming.
that every farmer introduces the Zero Budget Natural Farming Method.
that organic food is sold for a fair price.
that there is a water treatment plant in the village so that clean drinking water is guaranteed for everyone.
that the ground water quality constantly improves as does the health of the people.
And their implementation:
In March 2018, 27 Indian cows and their calves were donated to the village. And there are more to come. This is the first step and is the basis of the ZBNF method. There is more information about this initiative in Latest.
In the future three experienced ZBNF trainers will make field visits every ten days and carry out training. Workshops will also be organised on ZBNF farms. The first training session has already taken place and the trainer from Andhra Pradesh was very enthusiastic about the project and the interest shown by the 56 participants. He said "The women particularly showed a lot of interest."
In addition to agricultural projects, we were able to organise and finance the following initiatives, thanks to your many donations:
Sewing machines so that two women can run sewing courses for eight others in the village
Subsidising of school costs for all girls between 14 and 18
Traditional woven bedspreads for the over 60s
Healthy food and other essentials for the one shop in the village
and last but not least – a cricket kit for the youths
262 people live in Kummarigudem in 52 families. On one evening during our first visit to the village, we gathered with all the women and children at the small Hanuman temple. "We feel like one big family!" said one of the old women, and the others all agreed with her.
A big advantage is that everyone in the village is a Hindu. There is a beautiful Hanuman temple that the villagers restored together a few years ago. All the inhabitants belong to the same caste, the "Potters" caste, and so for them it is a joy to live together in a community. In the village everybody supports each other.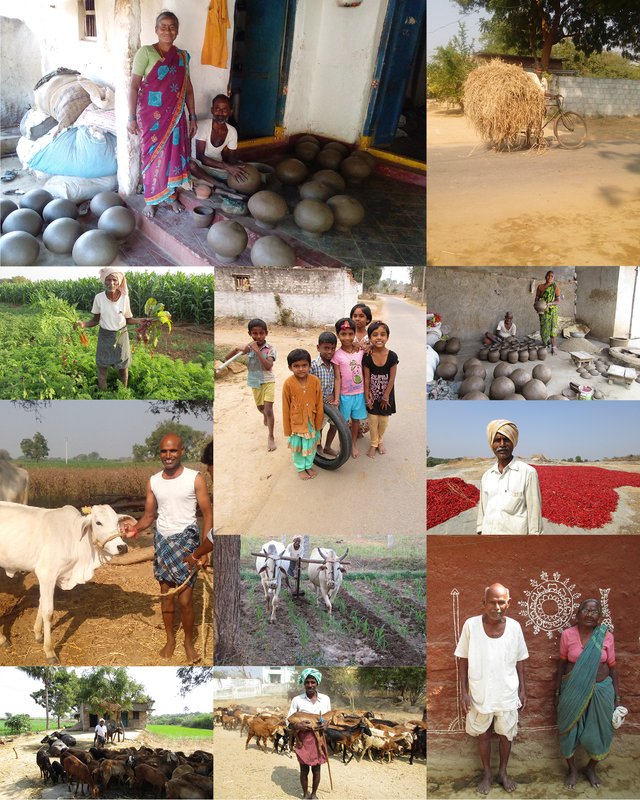 "We feel like one big family!"