Spendenkonto
SANKRANTI e.V.
GLS BANK
BIC: GENO DEM1GLS
IBAN: DE 33 430 609 67 119 780 5500
The Goshala Trust in Kummarigudem organised an Ayurveda medical camp with five Ayurvedic doctors. Many of the villagers attended, were examined and received free Ayurvedic medicine. Only thanks to your donations were we able to set up the medical camp. Almost every villager over the age of 40 suffers greatly with joint pain. The causes have been traced back to the high fluoride content in the groundwater, which is also used for drinking. Within the framework of Village of Hope, Sankranti e.V. is donating a water treatment plant for the village. Next year we're organising another camp, to which we will also be inviting homeopathic doctors.
During the monsoon season the members of our Indian partner organisation, the Goshala Trust visited the village of Kummarigudem and presented the families with 330 fruit trees, donated by Sankranti e.V. – by YOU! Each family received six young trees which should bear their first fruit after three years.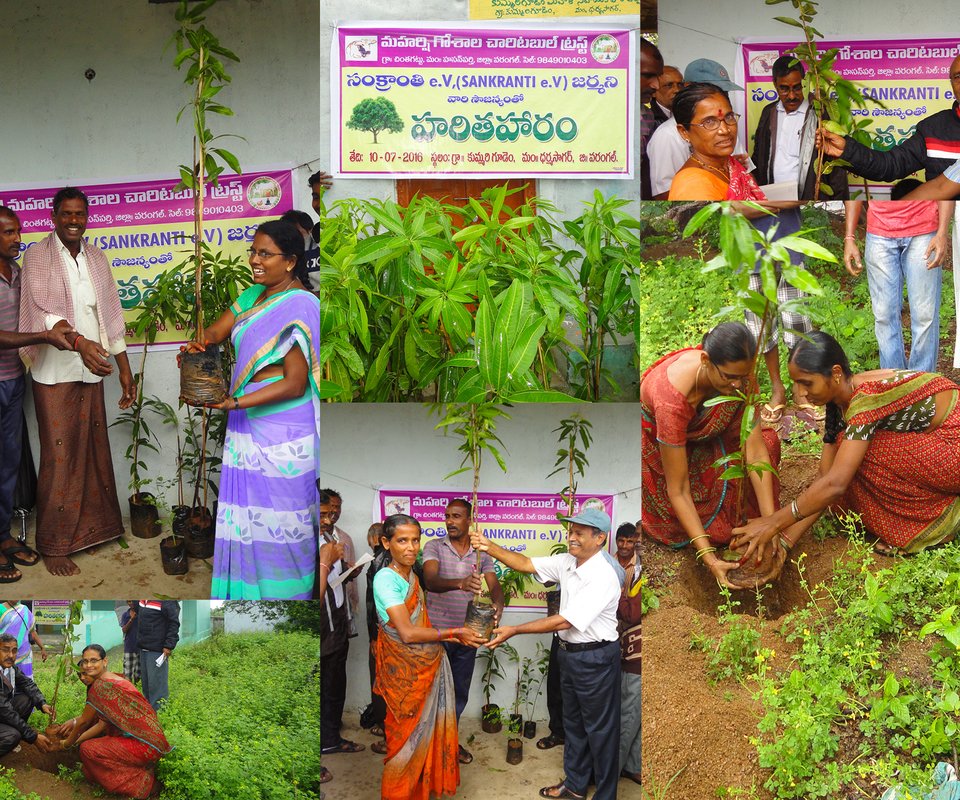 Five more families of suicide victims received support via donations. The families come from the area around Kummarigudem and were invited to a village gathering. The assembled people held a minute's silence for the deceased. Not often are the bereaved able to experience the compassion of a community or talk to others about their situation. They are usually left alone with their grief and desperation. The head of the family is suddenly no longer there. "What do we do now?" There are always many questions. We saw orphans whose father and mother had taken their own lives. Sometimes they had a debt of just 80 euros that they were not able to pay back. Our experience with our previous projects showed us that the affected families are happy if we pay money for their children's education into their bank account. Each family received 35,000 Rupees – approx 500 euros.
more…
2012- Report
2013- Report